Rachael Klinker - Broker/Realtor®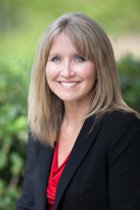 Originally from San Diego, California, I found my way to Florida
and the wonderful City of Oviedo in 1994. I spent 15 years in
residential & commercial construction, along with 2 years in
property management. During this time, I was involved in many
property designs and reconstructions including the design and
build of my own home in which I have raised my family in for the
past twenty three years. In 2011, I decided to combine my
expertise into one area and open a real estate business. This
combined knowledge has given me an edge while striving to be
the best Realtor® possible. I have been a leading top producer
since the beginning. My first year I earned the Rookie of The Year
Award and have continued to consistently grow my business each
year, thanks to many wonderful customers. In 2022, I proudly
completed my license to become a Broker.
Prior to entering real estate, I owned a large insulation company
in Winter Park, specializing in spray foam insulation and was a
partner in two different roofing companies specializing in damage
repair and reroofing. These experiences instilled in me the
discipline it takes to build a successful business. I have always
believed that hard work generates great results. My experience
becomes an asset to my clients as I can provide them expertise in
both the home buying and selling experience.
On a personal level, I am a wife, mother and grandmother. I am
married to the love of my life Lou and together we have 8
children, 3 daughter in-laws, a son in-law and 5 grandchildren.
We raised our children in Oviedo and have been in the same
house for the past 23 years. Our children have attended many of
the local schools. Over the years, I have enjoyed many
opportunities volunteering in our community and was both a
leader & Unit Commissioner with the Boy Scouts of America for
21 years. Our family is proud to have 4 Eagle Scouts. My
husband has been a volunteer volleyball & soccer coach for the
local community as well and we have both served on several local
HOA boards.
I pride myself in being a Professional full-service Broker and
Realtor®. It is important for you to choose a Realtor® who is your
advocate and understands that the home buying and selling
process begins well before looking at or listing a home. As your
Realtor®, you can be confident, I will guide you from beginning to
close to the utmost of my ability. My customer's confidence shows
by the many referrals I receive each year. I am genuinely thankful
for this show of trust and will continue to serve your family and
friends well. If there is anything I can help you with, feel free to
contact me at (407) 687-6418.